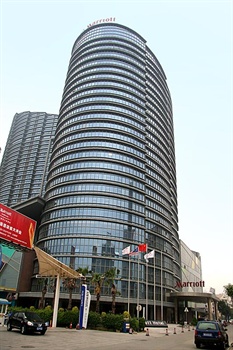 Close to the permanent site of the China-ASEAN Expo, the Nanning International Convention and Exhibition Center, the Nanning Marriott Hotel (Xinwei Wanhao Jiudian) is a business hotel within easy reach of Hangyang International Shopping Mall and Wuxiang Square.
Newly opened in 2009, this Nanning hotel houses 343 guestrooms.
The on-site Chinese restaurant houses 13 luxurious private dining rooms, and chefs specialize in seafood and Cantonese cuisine. At the Western restaurant guests can enjoy Western-style and Southeast Asian-style cuisines while listening to contemporary music.
For business travelers organizing conferences and events, this hotel's 704 square-meter banquet hall and four variously-sized multifunctional conference halls are all equipped with audiovisual systems and high-speed Internet access. The banquet hall can also be broken down into three smaller units.
Guests with free time on their hands can go to the lobby bar for a drink or private gathering, or enjoy a refreshing swim at the pool, steam up in the sauna, or enjoy some pampering or a massage at the spa. There is also a beauty salon on site.